Finally, a power meter that doesn't mess up your bike and empty out your wallet.
The Version 2 PowerPod has all of the great features of the original PowerPod, and now you have the option to use it with your Bluetooth Device as well, using BLE.  The Version 2 model can be upgraded to a BLE device by downloading an upgrade key from Velocomp the manufacturer of the Powerpod
PowerPod BLE/ANT+ power meter wirelessly transmits its power measurements simultaneously in the two most popular formats: ANT+ and can now be upgraded to function with BLE.  This means that PowerPod BLE/ANT+ will work with popular bike computers (such as Garmin) and can be equipped to also work with BLE smartphone apps such as Powerhouse®, Wahoo Fitness, and Strava.  If you happen to have both an ANT+ bike computer and BLE smartphone on your bike then BOTH DEVICES will receive PowerPod power readings at the same time.
PowerPod is the first power meter that attaches to your handlebars--no need to change your crank, wheel, pedals, or bottom bracket. Delivers both-leg accuracy on par with both-leg power meters costing 5 times as much, and accuracy superior to one-leg power meters.
PowerPod is the only power meter that moves effortlessly from bike to bike. It works with any ANT+ bike computer, and is the only power meter that doesn't cost a fortune.
Lightweight
Affordable
BLE/ANT+ Compatible
Transferable from bike to bike
Accurate
Easy to set up
How PowerPod works
PowerPod measures, up to 800 times per second, the opposing forces caused by hills, wind, acceleration, and friction. Opposing forces, matched identically by the forces applied by both legs, determine the cyclist's power.
Use any crank, wheels, or pedals
Moves easily from bike to bike
Sends power measurement to any ANT+ bike computer (such as Garmin or Bryton) that displays power information
Works on road bikes, cross bikes, and mountain bikes
Incredibly accurate, both leg power measurement
GoPro-style handlebar mount
Includes Isaac software for Mac/PC, giving you exclusive PowerPod data including wind speed, hill slope, CdA aerodynamic efficiency, and more
NEW! POWERPOD + POWERHOUSE BIKE APP ARE YOUR COMPLETE POWER MEASUREMENT AND COACHING SOLUTION
By choosing PowerPod BLE, you receive not just a Power Meter: you a receive an integrated full-function training and fitness solution thanks to PowerHouse Bike App for iOS
Your BLE unlock key includes access to the free download PowerHouse Bike App, a pro-level personal coaching system that helps you achieve your fitness, weight loss, lifestyle and performance goals.
POWERHOUSE offers six informative and fun workout plans to improve fitness and performance, for both the general fitness market and current cycling enthusiasts. PowerPod BLE users get access to 6 free workouts (the first ride of each plan), a bike computer "Free Ride" and a Fitness Test (FTP) for free.
Each full training pack is available via your app store and includes anything between 30 and 90 individual workouts. This is a permanent purchase, not a one-time licence, so each workout can be used again and again. Plans for the fitness market are: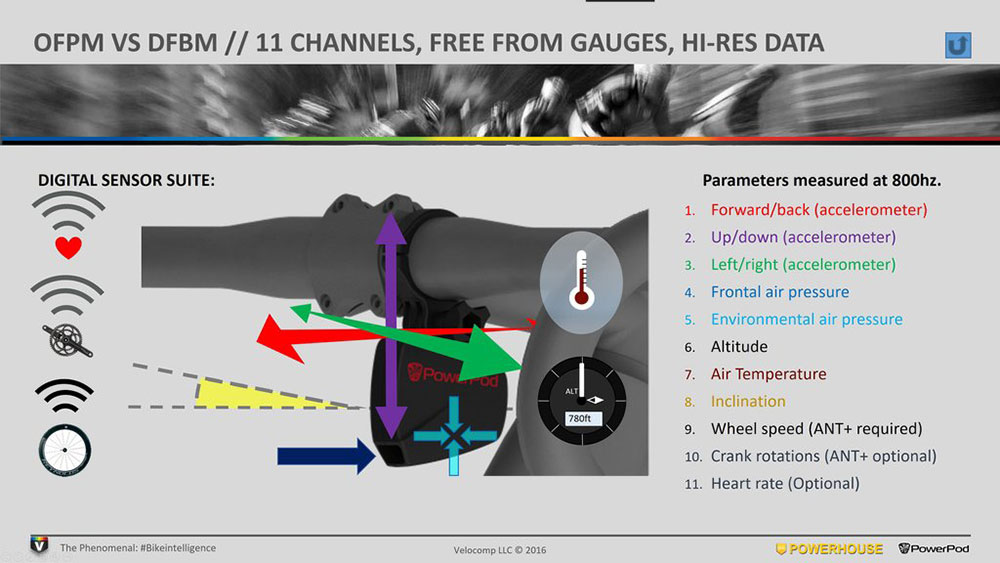 UNIQUE, AFFORDABLE, FULL PICTURE ANALYSIS TECHNOLOGY
If Power is all you want, PowerPod has all you need when you pull it out of the box. However, if you want it to, PowerPod can be so much more than just a power meter. PowerPod turns every single thing you feel while riding: the wind on your face, the roughness of the road, the incline you are riding up, the surges of acceleration or braking you do while riding, into a rich, full suite of analysis capabilities. For advanced users, PowerPod will help you bring your awareness to a new, bigger picture level – making you a smarter, stronger, more capable cyclist.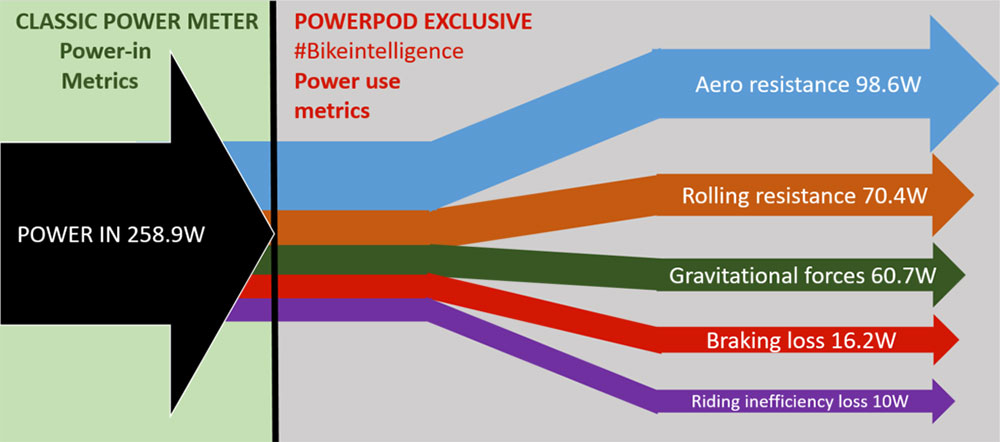 Easy to Install
You don't have to swap-out your wheels, crank, pedals, or bottom bracket, and there's no gluing or water bags either.
Attach PowerPod to your handlebars using the included GoPro-style mount;
Pair PowerPod to your ANT+ bike computer and speed sensors;
then ride!
Can PowerPod really be so easy to setup and use? See for your self Click here for The Powerpod Manual.
PowerPod wirelessly sends its accurate, both-leg power measurements to your ANT+ bike computer, such as Garmin or Bryton.
Easy to Use
PowerPod has just one button, and a single LED status light. When you're ready to ride click the button; PowerPod confirms it's ready by the green status light. Green means go!
PowerPod includes an internal, rechargeable battery. You'll get about 20 hours of continuous riding, then recharge PowerPod from any USB charger.
Gold-Standard Performance
Velocomp power measurement technology has been used by some of the top pro-cycling teams in the world. PowerPod incorporates the same, both-leg measurement sensors and circuitry used in our pro-level Newton+ products.
PowerPod accuracy is on-par with power meters costing 5 times as much, and superior to one-leg power meters.